Moderator
Moderator
Representative
Justice Department
State Department
Public Affairs Department
Environment & Recreation Department
Redmont Bar Assoc.
Supporter

IN THE DISTRICT COURT OF THE COMMONWEALTH OF REDMONT
CIVIL ACTION
xAntho_ny
Plaintiff
v.
RampantMech
Defendant
COMPLAINT
The Plaintiff complains against the Defendant as follows:
WRITTEN STATEMENT FROM THE PLAINTIFF
Starting on November 18th, 2023, the defendant RampantMech, from nowhere has been murdering me over and over wherever I go, if it is me walking on the street, or afk somewhere, they are always murdering me, having me end up either in the build world hiding from the defendant or having to wait for them to leave the server in order to actually come out even with the /dynmap hide. Even though I keep reporting the defendant to the Dept. Justice, they still come after me and keep murdering me. And as of this lawsuit the defendant still keeps murdering me.
I. PARTIES
1. xAntho_ny (Plaintiff)
2. RampantMech (Defendant)
II. FACTS
On November 18th, 2023 the defendant murdered the plaintiff over and over again and not stopping whenever the plaintiff is on.
2. The plaintiff has to hide somewhere in order for the defendant not to find them and murder them.
3. Even with the dynmap off the defendant still gets the plaintiff and murderers them despite being reported to the Department Of Justice
III. CLAIMS FOR RELIEF
1. According to
Legal Damages Act
"The Loss of Enjoyment in Redmont: - situations in which an injured party loses their ability to engage in certain activities in the way that the injured party did before the harm." In this case, the plaintiff could not do such things as walking around the city, standing somewhere, and talking to other players around the server.
IV. PRAYER FOR RELIEF
The Plaintiff seeks the following from the Defendant:
$10,000.00 (Loss Of Enjoyment)
$900.00 (Legal Fees)
$10,900.00 (Total)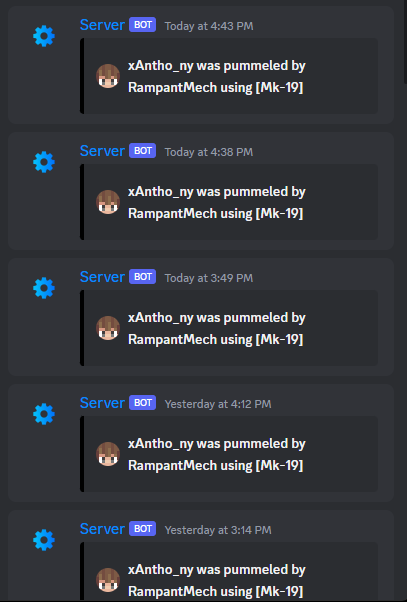 By making this submission, I agree I understand the penalties of lying in court and the fact that I am subject to perjury should I knowingly make a false statement in court.
DATED: This 19th day of November 2023