IN THE FEDERAL COURT OF THE COMMONWEALTH OF REDMONT
CIVIL ACTION
ItzBananaMuffin and xlayzur
Plaintiff
v.
Jelly_Jockstrap
Defendant
COMPLAINT
The Plaintiff complains against the Defendant as follows:
Both xlayzur and I invested money with Jelly_Jockstrap and were never paid even one dollar by the time they said they would double our money, and were contractually obliged to do so.
I. PARTIES
1. ItzBananaMuffin
2. xlayzur
3. Jelly_Jockstrap
II. FACTS
1. The Defendant was advertising in-game that they would double any money invested with them, up to $5,000 total.
2. The two Plaintiffs agreed to each invest $2,500, and ItzBananaMuffin wrote a contract in a Discord message.
3. All parties signed the contract and the Defendant confirmed that the Plaintiffs sent the agreed upon amounts.
4. The allotted time passed without the Plaintiffs hearing from or receiving any money from the Defendant.
5. The Defendant has now been offline for almost the entire period of the investment, causing undue worry to the Plaintiffs about the security of their money.
III. CLAIMS FOR RELIEF
1. The Defendant clearly broke a contract which they willingly signed.
2. The Plaintiffs did nothing to warrant this contract being broken, and abided by all of its terms.
IV. PRAYER FOR RELIEF
The Plaintiff seeks the following from the Defendant:
1. $5,000 each, what the Defendant promised them in the terms of the contract,
2. An additional payment of $2,750 each, as permitted by section V of the contract signed by the Defendant.
3. $200 in legal fees
Evidence: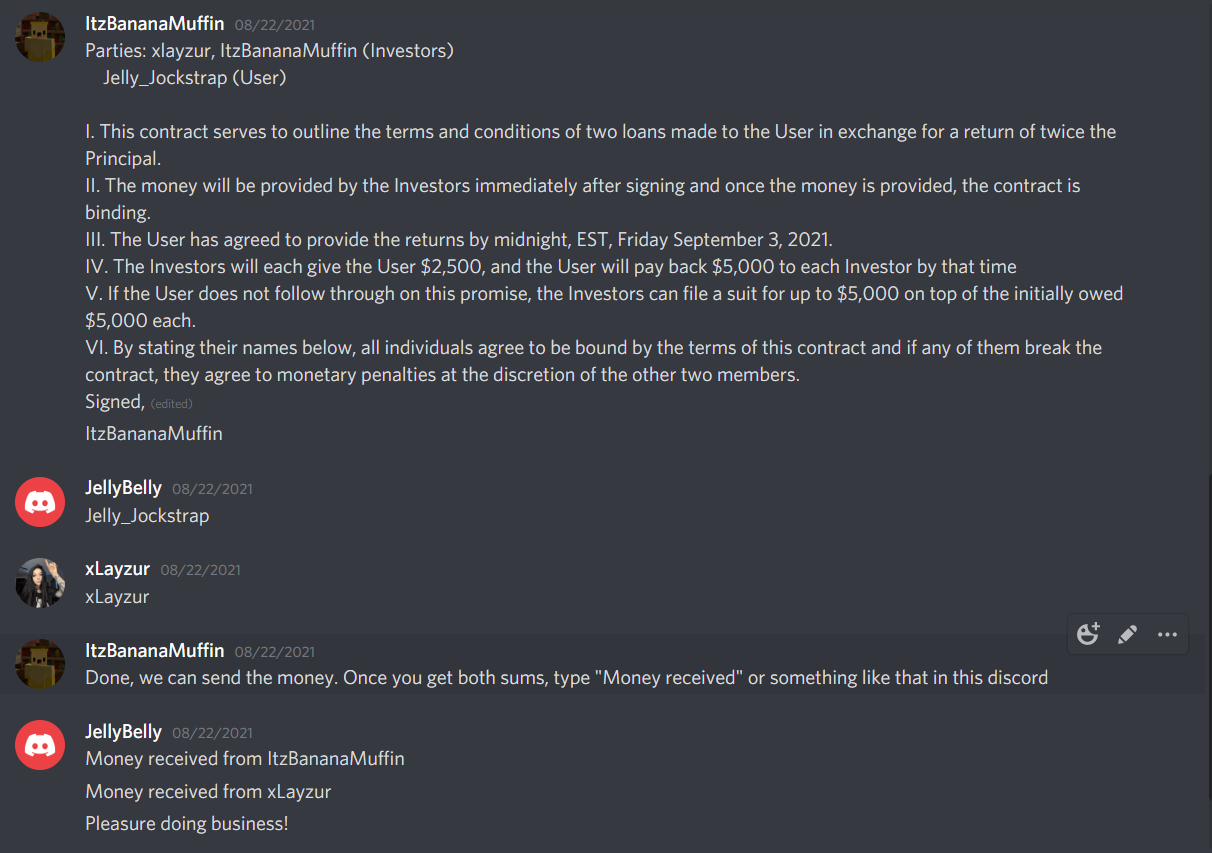 By making this submission, I agree I understand the penalties of lying in court and the fact that I am subject to perjury should I knowingly make a false statement in court.
DATED: This 3rd day of September, 2021