Director, Redmont Bureau of Investigation
Redmont Bar Assoc.
Supporter

IN THE FEDERAL COURT OF THE COMMONWEALTH OF REDMONT
CIVIL ACTION
Discover Bank (Represented by The Lovely Law Firm)
Plaintiff
v.
The Department of Commerce
Defendant
COMPLAINT
The Plaintiff complains against the Defendant as follows:
On September 10th, The Secretary of Commerce LilLethalVert issued a demand to Discover Bank requesting to view private information about its financial records and depositors despite having no probable cause to do so. This invasion of privacy led to some questions by the bank's counsel, and in retaliation, the Secretary decided to unilaterally revoke Discover Bank's tax exemption in a fit of rage, as well as issuing a highly defamatory statement in Government announcements that makes Discover Bank look to be a bad business when nothing could be further from the truth.
I. PARTIES
1. Discover Bank (Plaintiff)
2. The Department of Commerce (Defendant)
3. LilLethalVert (The Secretary of Commerce)
4. Nexalin (Witness)
II. FACTS
1. Secretary LilLethalVert stated, on September 10th, "The Department of Commerce is requesting a current record of all active accounts (checking, loans, and deposits) from the Discover Bank. This is a part of a routine check on all registered financial institutions in Redmont." (Exhibit A)
2. Discover Bank, via its counsel, requested the Department of Commerce to obtain a warrant, to which the Department refused. (Exhibit B)
3. The Department issued an ultimatum for compliance, to which the Bank's counsel inquired what the penalties would be if the bank did not comply with the Department's request. (Exhibit C)
4. The Department, without further communication, instantly revoked Discover Bank's tax exemption status: "Due to failure to fulfill critical requests on this firm, we are suspending your ITO (and therefore your tax exemption) as we cannot be certain you meet the criteria of an insurable bank." (Exhibit C)
5. The Secretary issued a statement in Government Announcements, pinging all persons subscribed to @economy, a statement which humilated Discover Bank. (Exhibit D)
III. CLAIMS FOR RELIEF
1. The Department of Commerce illicitly demanded that Discover Bank yield private information about its accountholders financial information as well as information about the bank itself. This directly violates the accountholder's right to be safe against unreasonable search as well as that of the company's. The Constitution provides that "XV. Every citizen has the right to be secure against unreasonable search or seizure." The term search is broad and encompasses inquiries not only into physical possessions, but anything of private value. The intent of this right is to protect citizens from intrusion by the Government in their private affairs. Finance and banking is an especially sensitive aspect of a citizen's life, and is the entire core of Discover Bank. This intrusion lacks foundation and is unsupported by probable cause. Discover Bank, as well as the "several dozen" other financial institutions the Department of Commerce has harassed, are not immediately suspected of any criminal wrongdoing, therefore the right to be secure against unnecessary searches must be upheld in this matter.
2. The Department of Commerce has also began using software to automatically track and monitor the depositing activity of financial institutions, even small amounts. This is a further intrusion into privacy and is beyond the normal scope of monitoring. This level of scrutiny should only be engaged when there is probable cause to justify such an action.
3. The Department of Commerce is not allowed to arbitrarily revoke the tax exemption status for any financial institution per the Financial Institution Taxation Act (
link
). Regardless of cooperation with oversight, the Department of Commerce overstepped its authority and took away a lawfully given right from Discover Bank. The law provides that "(2) Deposit-taking financial institutions will be exempt from all balance taxes." Discover Bank takes deposits from private citizens and corporate clients regularly ("(1) A deposit-taking financial institution is defined as a financial institution that takes deposits of money from other legal entities, such as companies and private citizens, in order to profitably invest them and return a portion of the profit to its depositors."), and therefore the law provides an enumerated stipulation that Discover Bank is automatically exempt from
all
balance taxes regardless of the Department of Commerce's or its Secretary's feelings toward the Bank. The revocation was a short-sighted and authoritarian act designed to intimidate my client into giving up its right to be secure against unreasonable searches, an act that must not go unpunished. The law provides that the only information it provides to the Department of Commerce is specific in nature and occurs only at the end of the month. It is not currently the end of the month by any stretch, and my client pays its revenue taxes in a timely and honest manner. Regardless, nothing in the law empowers the Department of Commerce to revoke tax exempt status, a status automatically and unequivocally granted by the law to ALL deposit-taking financial institutions.
4. The tax exemption status was revoked as of 11:45PM EDT on September 10th, 2023. Corporate taxes at a rate of 1% weekly have begun to accrue. With the current balance of Discover Bank, the bank currently loses $244.05 in taxes every hour. Therefore, between the time when exemption was revoked and the time when it will be restored, the plaintiff will have lost $244.05 every hour needlessly and illegally. Given this financial institution is in the business of loaning out money, it is also losing interest on this money that could have been lent out. Discover Bank loans money out at an average interest rate of roughly 6%, making the hourly losses due to lost interest total at $14.64. In total, every hour Discover Bank is taxed, it loses $258.69 of hard-earned cash. If one extrapolates that over just one day, it is a heavy tax burden that is illegal.
5. The Department of Commerce has defamed my client and caused it humiliation due to the comments made by it in Government announcements. The announcement frames the perception of my client in a manner that it is not a reputable or lawfully-compliant financial institution, which can impact customers' decisions when deciding to bank with Discover Bank. This will have an effect on revenues in unimaginable ways, and therefore the damages are incalculable humiliation damages, which the Legal Damages Act allows civil plaintiffs to collect damages for (
link
). No matter the outcome of this lawsuit, Discover Bank's reputation is permanently tarnished by the Department's negligence, blind rage, and lack of consideration for the law.
IV. PRAYER FOR RELIEF
The Plaintiff seeks the following from the Defendant:
1. The Department of Commerce's jurisdiction to be limited to its lawful bounds, and to rewrite policy accordingly;
2. The Department of Commerce to restore the tax exemption status of Discover Bank;
3. The Department of Commerce to pay Discover Bank $10,000 in punitive damages for its gross misconduct and outrageous nature;
4. The Department of Commerce to pay compensatory damages to Discover Bank for illicit taxation and loss of interest revenue at a rate of $258.69/hr starting from 11:45PM EDT on September 10th, 2023 and ending when Discover Bank's tax exemption status is finally restored. All partial hours should be pro-rated by the minute with the hourly rate divided by 60, and then multiplied by the minute.
5. The Department of Commerce to pay consequential damages to Discover Bank for humiliation by posting a defamatory announcement grounded in falsehood and illegality. The Plaintiff requests $100,000 in damages under this claim as the earning capacity of Discover Bank is incalculably large and a statement from the Government itself can severely harm its operations. The Legal Damages Act allows this penalty to be requested beyond the normal $50,000 limit because punitive damages are being argued in this civil suit.
6. The Department of Commerce to pay consequential damages to Discover Bank for loss of enjoyment in Redmont as its implied right to privacy via the right to be secure from unreasonable searches was violated. The loss of privacy and the blatant intrusion of the Government into Discover Bank's activities make it less enjoyable and less easy to conduct business, lowers workplace moral, and demotivates upper management in the firm, causing a ripple effect of other incalculable damages. The Plaintiff therefore requests $45,000 in damages under this claim.
7. The Department of Commerce to pay the legal fees of the Plaintiff for trying this case. The Lovely Law Firm is charging the Plaintiff 20% of the value of this case, and the Plaintiff therefore requests $38,750 (when added to the other fees in the case excluding prayer for relief four, this number is 20% of the total) in legal fees plus 20% of whatever prayer for relief four ends up totaling.
V. MATERIAL EVIDENCE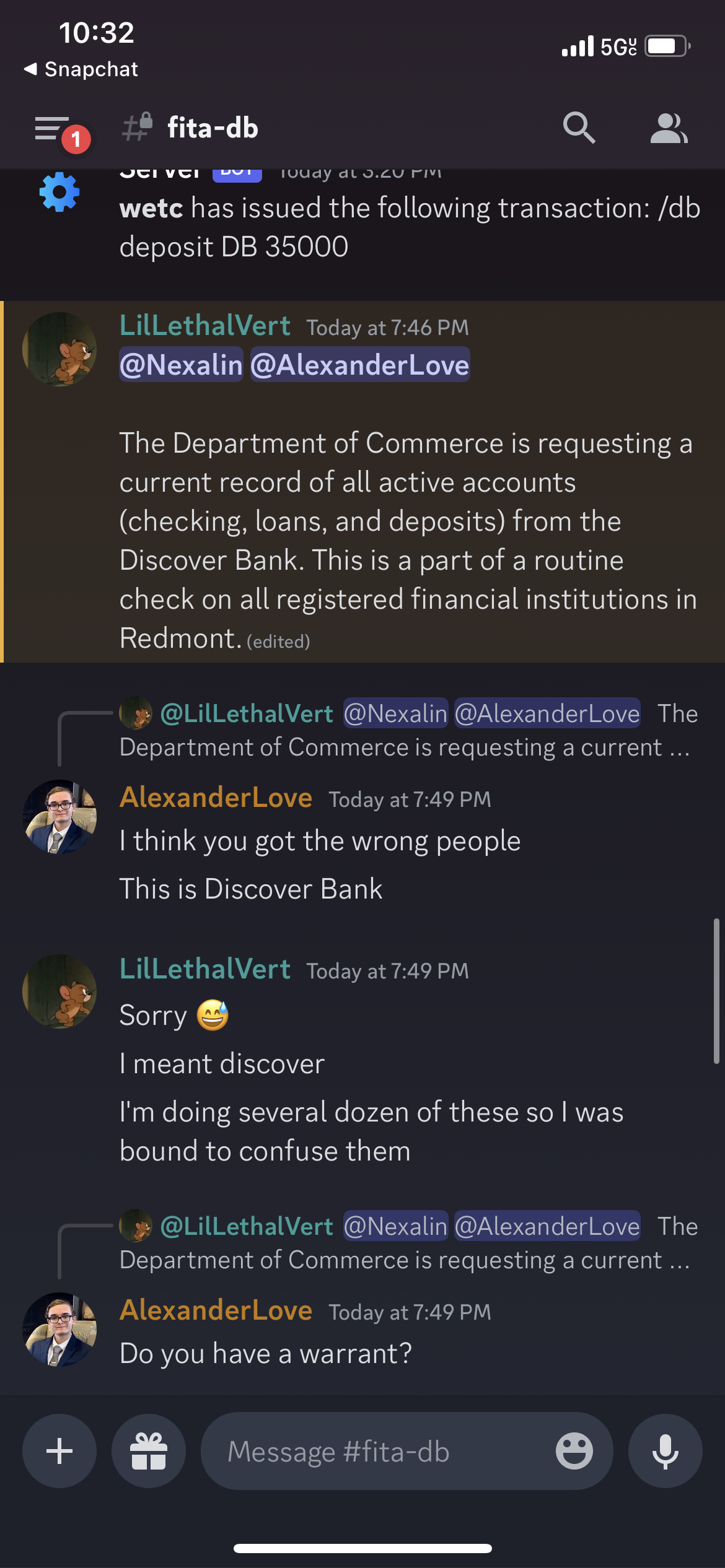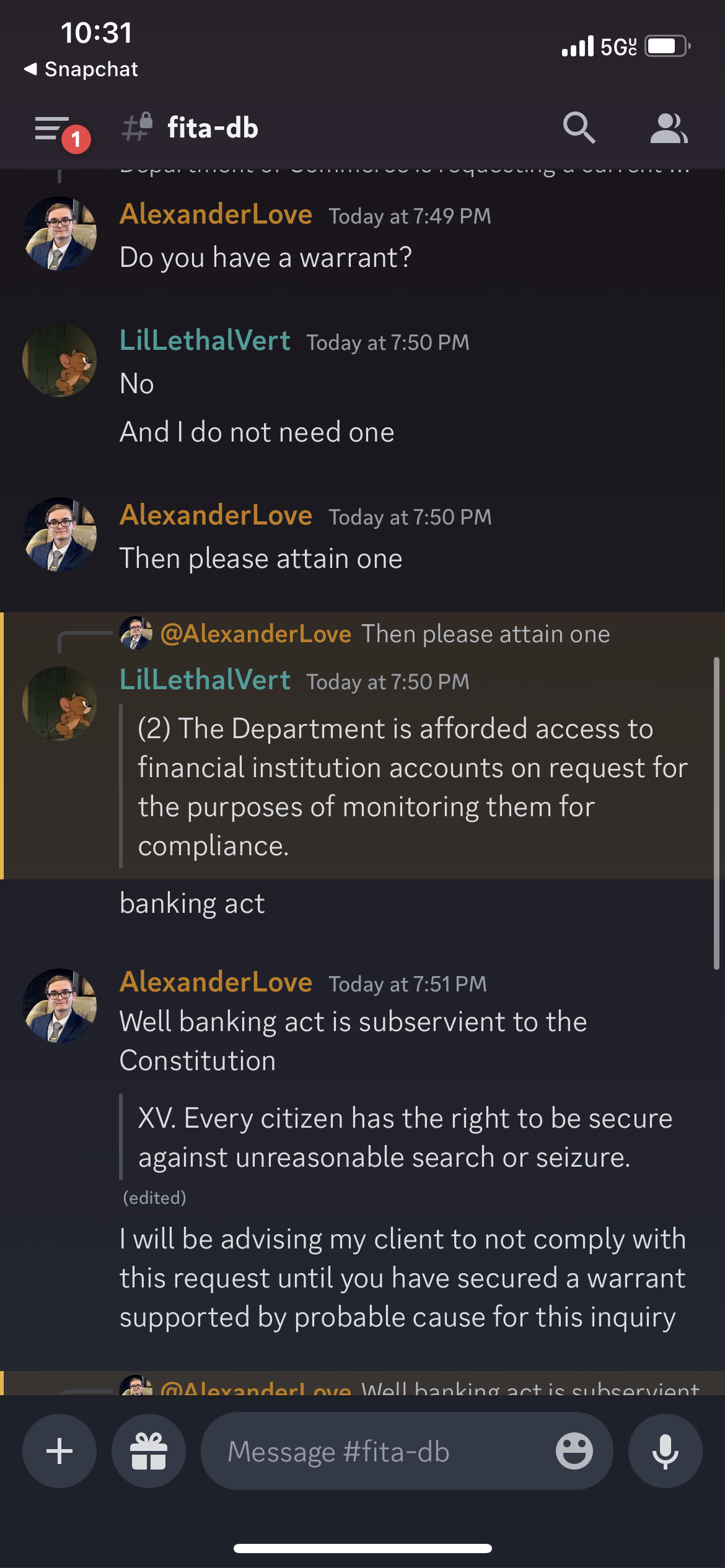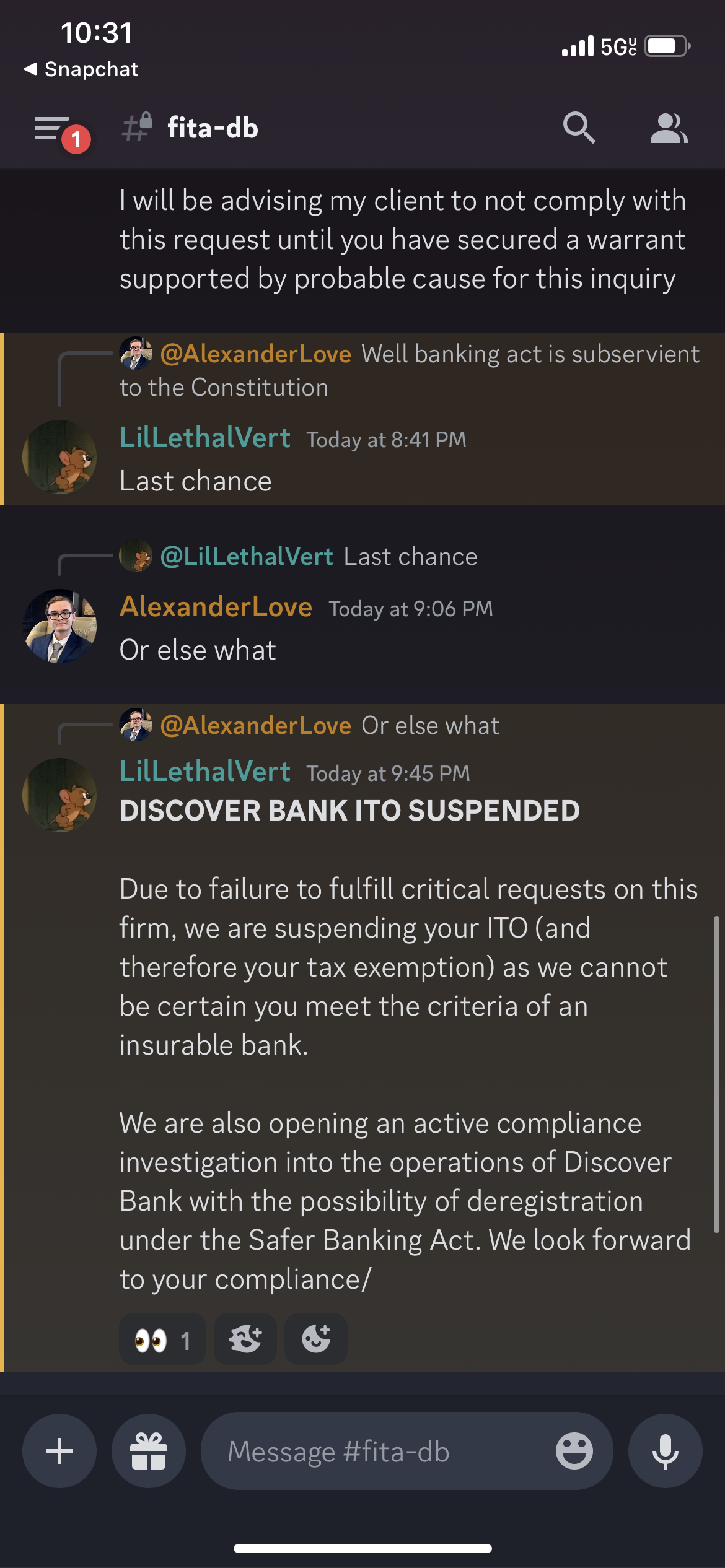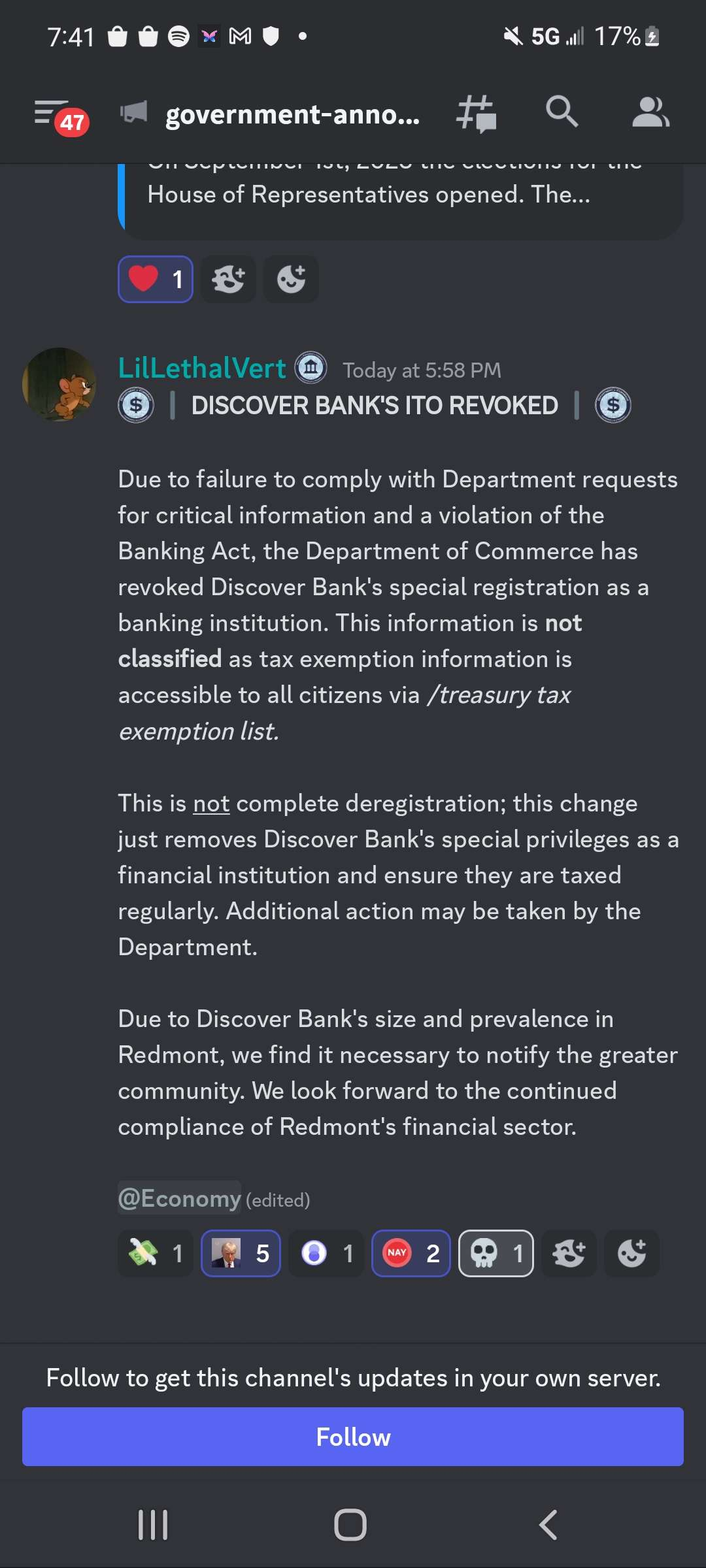 VI. EMERGENCY INJUNCTION
Due to the gravity of this case and for my client to be taxed quite heavily in an erroneous manner, I motion to compel the Department of Commerce to restore Discover Bank's tax exemption status immediately. The Financial Institution Taxation Act says all financial institutions are entitled to tax exemption, regardless if the Commerce Secretary likes it or not. With the current corporate tax rate being 1% for my client's corporate balance, my client would suffer 160k a month, which a Court case easily could take up, and therefore this injunction should be granted to protect the welfare of all the depositors of Discover Bank.
By making this submission, I agree I understand the penalties of lying in court and the fact that I am subject to perjury should I knowingly make a false statement in court.
DATED: This 11th day of September, 2023.