L'italiano e l'americano
Representative
Justice Department
Legal Affairs Department
Supporter

IN THE FEDERAL COURT OF THE COMMONWEALTH OF REDMONT
CIVIL ACTION
Crxka (represented by pepper5980)
Plaintiff
v.
The Commonwealth of Redmont
Defendant
COMPLAINT:
The Plaintiff complains against the Defendant as follows:
So basically from the previous case I built a player his house but he didn't pay me so I sued him and then the judge ruled that the player was fined $5500 and that I was to be given $5500 but it has been 2 months and I have tried to contact DOJ but they are claiming that they paid me when I never did if I were to receive the money I would have gotten a mail saying That I received the money but I didn't.
I. PARTIES
1. Crxka
2. The Commonwealth of Redmont
3. The Department of Justice
II. FACTS
1. On October 20th, 2022, Crxka (the Plaintiff) filed a lawsuit against NotGamerrr.
2. On October 26th, 2022, the Judge ruled Crxka v. NotGamerrr in the Plaintiff's favor. In their verdict, the Judge ordered the Department of Justice (DOJ) to fine NotGamerrr $5,500 and deliver $5,500 to the Plaintiff (Evidence 1, 2).
3. The DOJ never delivered the money to the Plaintiff (Evidence 3).
III. CLAIMS FOR RELIEF
1. The Plaintiff has patiently waited 2 months for the DOJ to deliver the money and has never been paid. Therefore, the DOJ still owes the Plaintiff $5,500.
IV. PRAYER FOR RELIEF
1. $5,500 delivered to the Plaintiff.
2. $200 delivered to the Plaintiff for attorney's fees.
Evidence:
1:
IN THE FEDERAL COURT OF THE COMMONWEALTH OF REDMONT CIVIL ACTION Crxka (Represented by Solid Law Firm) Plaintiff v. NotGamerrr Defendant COMPLAINT The Plaintiff complains against the Defendant as follows: Your honor, On October 4, 2022, the Defendant entered into a contract with the...

www.democracycraft.net
2: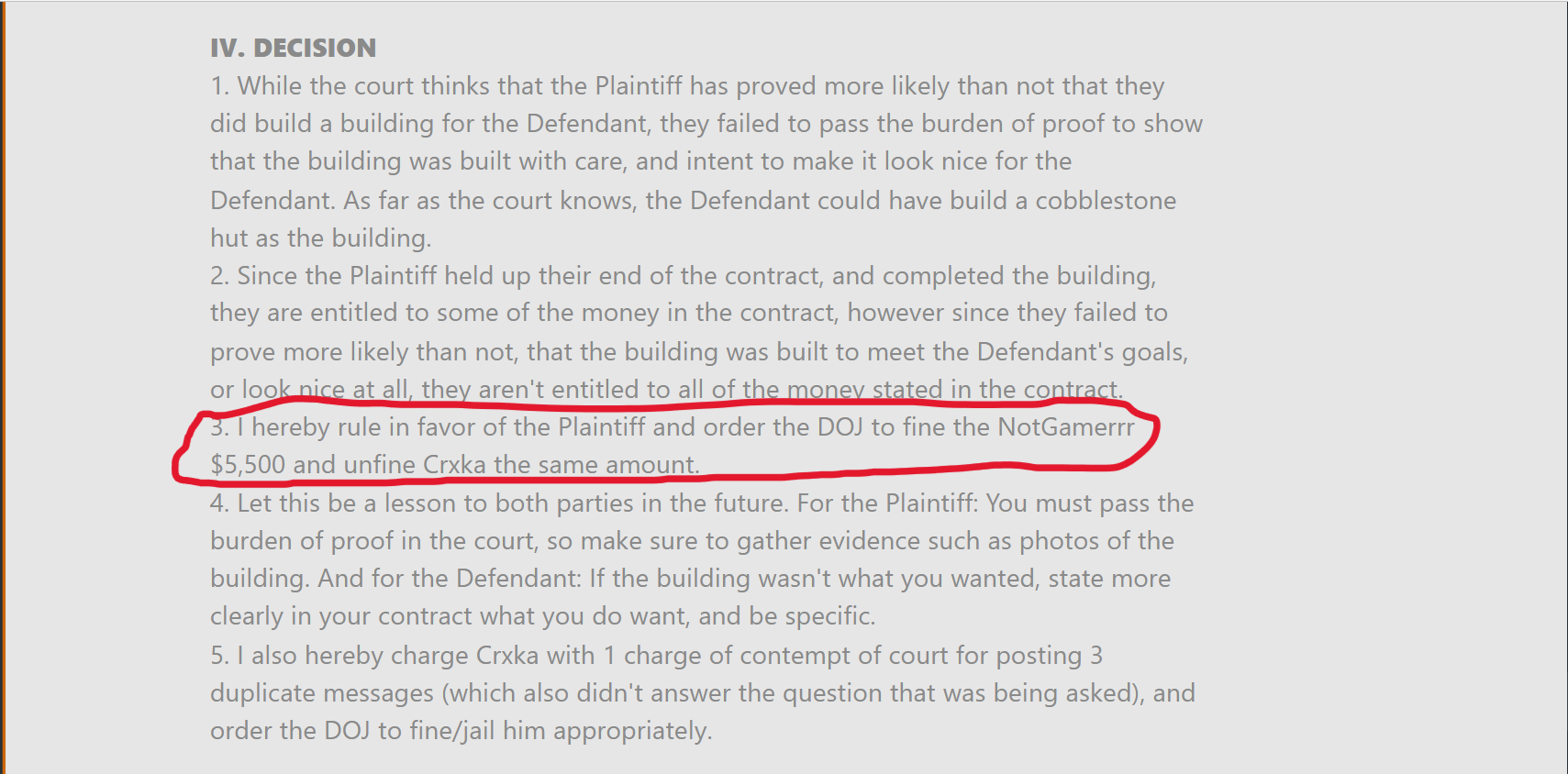 3:
If the Plaintiff had received the money, the DOJ would have issued a letter saying so. The Plaintiff has mail dated from 10/14/2022 to 12/21/2022, and there is no letter saying that the DOJ paid the amount required. Therefore, this is proof that the DOJ did in fact not pay the amount required.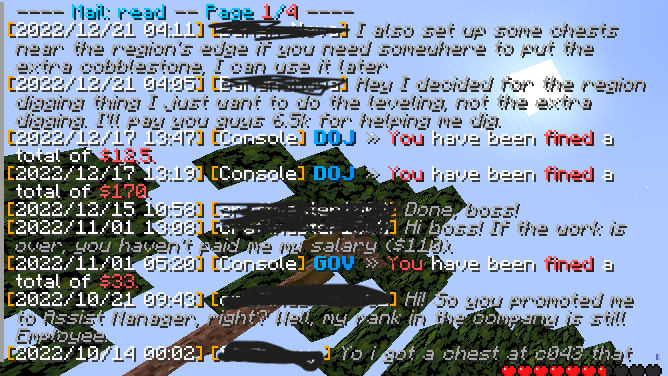 Evidence for permission to represent the Plaintiff:

By making this submission, I agree I understand the penalties of lying in court and the fact that I am subject to perjury should I knowingly make a false statement in court.
DATED: This 23 day of December, 2022.
Last edited: