Citizen
Deputy Speaker of the House
Representative
Justice Department
Construction & Transport Department
Supporter
Oakridge Resident

Congress Vote: 4-1-0

A
BILL
To

Establish A Verbally Threatening Act​
The people of Democracy Craft, through their elected Representatives in the Congress and the force of law ordained to that Congress by the people through the constitution, do hereby enact the following provisions into law:
1 - Short Title and Enactment
(1) This Act may be cited as the "Verbally Threatening Act".
(2) This Act shall be enacted immediately upon its signage.
2- Verbally Threatening
(1) This will follow the punishments of Assault.
(2) This is active when a player is threatening another player with the use of a gun and/or weapons or through any forms of communication, in order to put them in danger to prompt them to commit an action.
(3) When a player on the street says: "I'll kill you!", is an example of not verbally threatening another player.
3- Punishment
(1) When the victim has proof, the Police Officers can charge the player who is guilty: 100 dollars.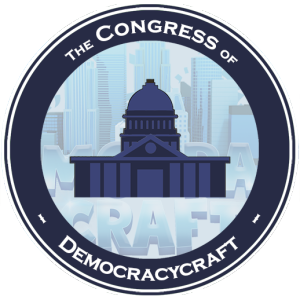 1950minecrafter
Speaker of Congress
​
Last edited by a moderator: