Citizen
Second Lady
Court Staff
Redmont Bar Association
Donator
IN THE FEDERAL COURT OF THE COMMONWEALTH OF REDMONT
CRIMINAL ACTION
The Commonwealth of Redmont
Prosecution
V.
xSumoMC
Defendant
COMPLAINT
The Prosecution alleges criminal actions committed by the Defendant as follows:
PROSECUTING AUTHORITY REPORT
Around the dates of February 10 - 15th, the Defendant, xSumoMC, as leader of the IPR, went around and maliciously sent direct campaigning messages to players asking them to join his party. The nature of the Defendant's messages were exploitative, specifically reaching out to individuals in other parties to try and poach them. While incredibly unethical, the actions were lawful until the Defendant began harassing citizens and messaging those on the Do Not Call List.
On February 15, evidence of xSumoMC's campaigning to Mask3D_WOLF was posted in the #open-charges channel that he was privy to. After being warned as an officer to refrain from violating the Illicit Campaigning law, the Defendant defied the law and began unsolicited campaigning in non-political discord channels, including the DPA's #twitter channel.
In addition to the unsolicited campaigning in violation of the law, the Defendant's malicious outreach to members of a party constituted campaign espionage as he sought to infiltrate the ranks of political campaigns, and even went as far as to list players as members of his party without their consent even after the players clarified their intention was not to join their party as a member. Aside from nonconsensual memberships, the Defendant did not follow the official process of enrollment for a membership as stated by the Defendant themselves.
I. PARTIES
1. LilNickiVert (Prosecuting Authority)
2. xSumoMC (Defendant)
3. Mask3D_WOLF (witness)
4. Drew_Hall (witness)
II. FACTS
1. The Defendant, xSumoMC, had maliciously sent unsolicited campaigning messages via discord and other communication channels to many citizens asking to join his party.
2. Among the citizens that xSumoMC campaigned to, included an individual on the
Do Not Call List
, MasK3D_WOLF.
3. Despite warnings from the Deputy Secretary of the Justice Department, the Defendant violated the illicit campaigning act again.
4. The Defendant, xSumoMC, breached the provisions of the Fair Campaigning Act, including the contacting of players on the Do Not Call List, and the promotion of his party in non-political discord channels.
5. The Defendant, xSumoMC, maliciously sent unsolicited messages to members of other parties, attempting to gather and infiltrate information and members of a political campaign, thus constituting campaign espionage.
III. CHARGES
The Prosecution hereby alleges the following charges against the Defendant:
1. One Count of Illicit Campaigning of the Second Offense
2. One Count of Campaign Espionage
IV. SENTENCING
The Prosecution hereby recommends the following sentence for the Defendant:
1. A fine of $200 for Illicit Campaigning
2. A fine of $2500 for Campaign Espionage
3. A removal of the Defendant from office for a period of no longer than one month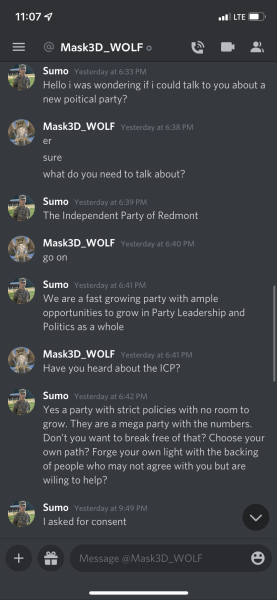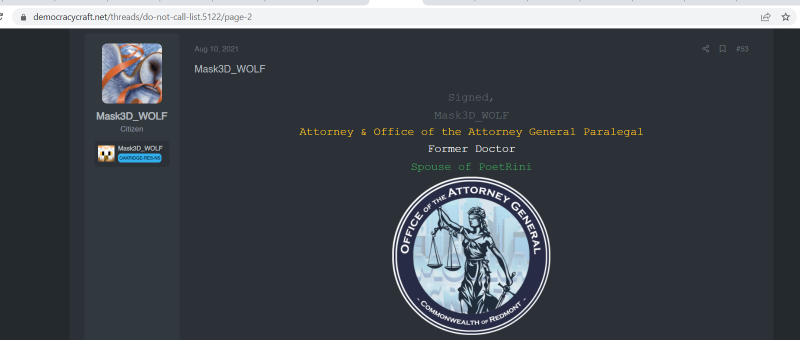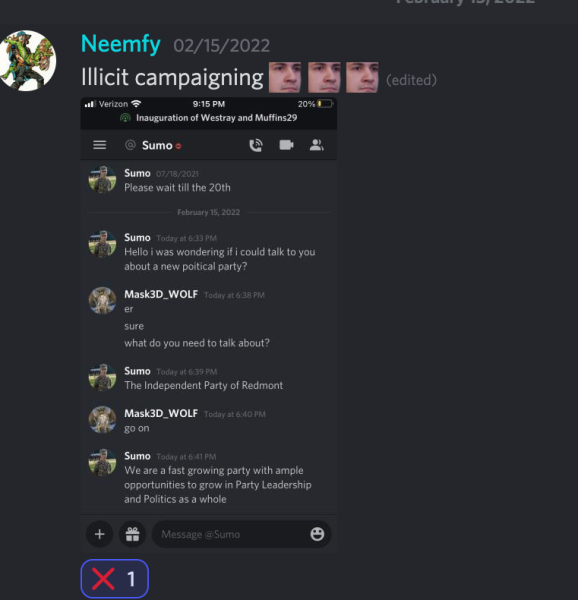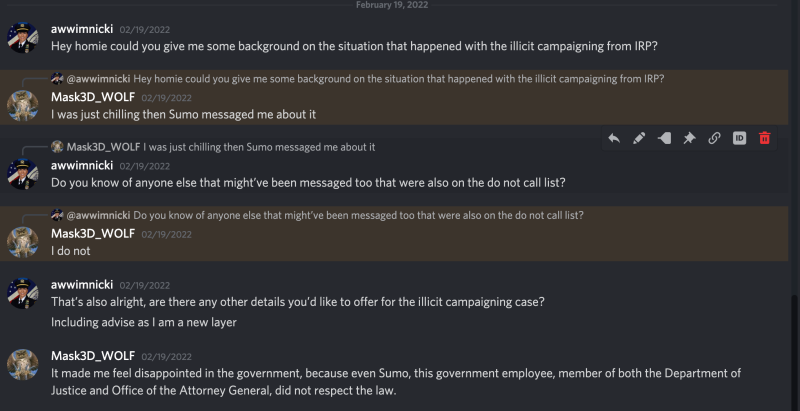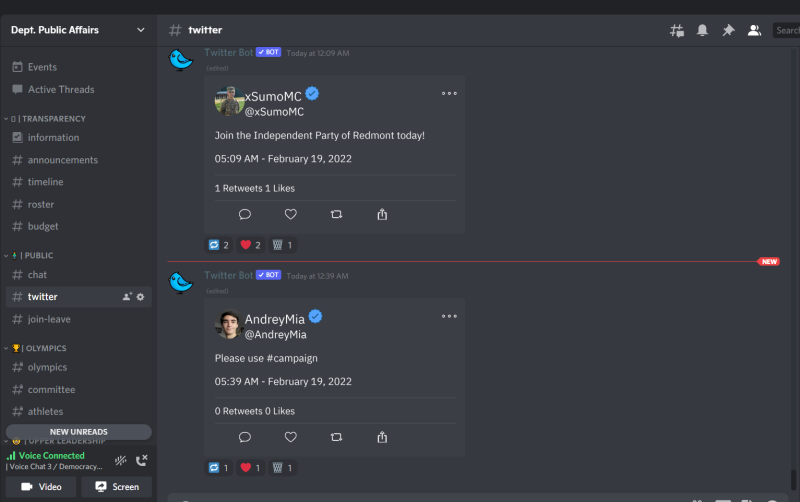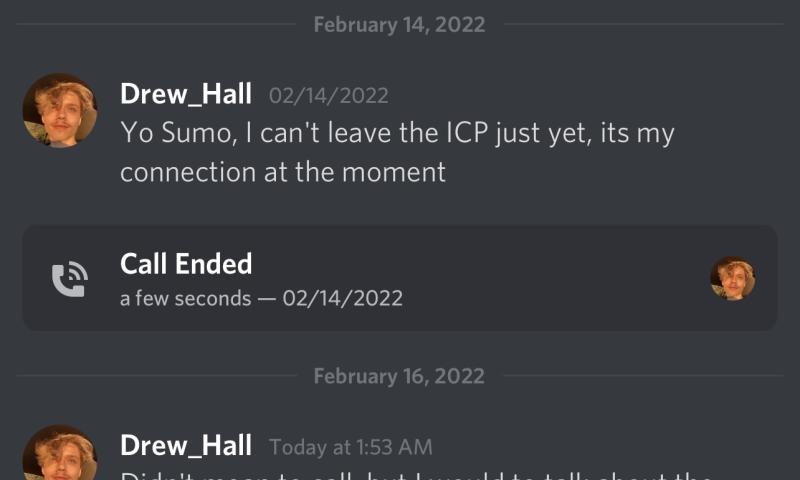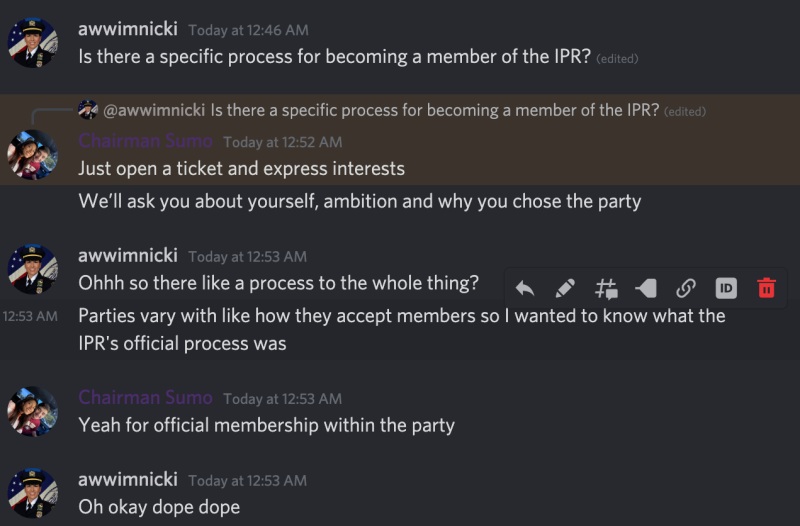 By making this submission, I agree I understand the penalties of lying in court and the fact that I am subject to perjury should I knowingly make a false statement in court.
DATED: Februrary 27th, 2022