IN THE FEDERAL COURT OF THE COMMONWEALTH OF REDMONT
CRIMINAL ACTION
Commonwealth of Redmont
Prosecution
v.
xLayzur
Defendant
COMPLAINT
The Prosecution alleges criminal actions committed by the Defendant as follows:
xLayzur has committed and is currently committing criminal embezzlement.
I. PARTIES
1. Commonwealth of Redmont (Prosecution)
2. The CRB (Victim)
3. The Exchange (Victim)
4. xLayzur (Defendant)
II. FACTS
1. The player Nacholebraa requested a loan for the Exchange from the CRB in the amount of 550k.
2. The CRB accepted the loan and the loan was given out to Nacholebraa for the Exchange.
3. From february 25 2023 until at least march 25 2023 xLayzur owned the Exchange. The money Nacho still had in hand was transferred to the new owner, xLayzur.
4. The logs show xLayzur never deposited the money into the Exchange.
5. Large amounts were transferred to other players and to banks within Reveille.
6. xLayzur claimed the Exchange never had that much money, despite evidence showing Nacho sent him an amount of $537,646.68.
III. CHARGES
The Prosecution hereby alleges the following charges against the Defendant:
1. One Count of Embezzlement – As stated: Embezzlement shall be defined as; "The act of withholding assets for the purpose of conversion of such assets, by one or more persons to whom the assets were entrusted, for personal gain." The assets meant for the Exchange were never deposited and used for the purposes of the Exchange. Herefore the loan to help the Exchange in financial aid was entrusted to the Defendant was used for personal gain. The resources of the Exchange was not used for its intended purpose. Furthermore he withheld the rest of the large sum when transferring the company to the new owner Nexalin.
IV. SENTENCING
The Prosecution hereby recommends the following sentence for the Defendant:
1. Because of scale of the offence we do ask for the max penalty for embezzlement. Therefore we recommend a ban of his entrepreneur license, bar registration or ownership of any company owned by the Defendant, a $50,000 fine, and 10 minutes in jail. Furthermore the amount of $537,646.68 paid back in full to the Exchange and/or the CRB, as the court sees fit.
Totals: $50,000 in fines, 10 minutes in jail, $537,646.68 paid back to the victim(s), ban of entrepreneur license (until crime is expunged/pardoned), and ban on company ownership (until crime is expunged/pardoned).
EVIDENCE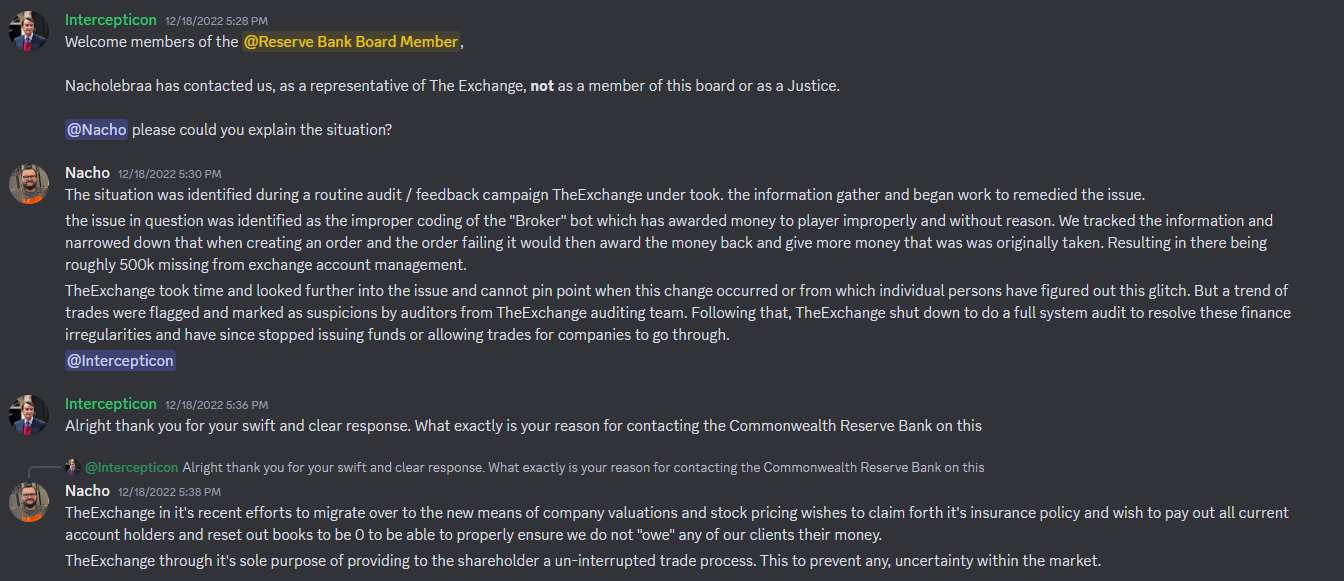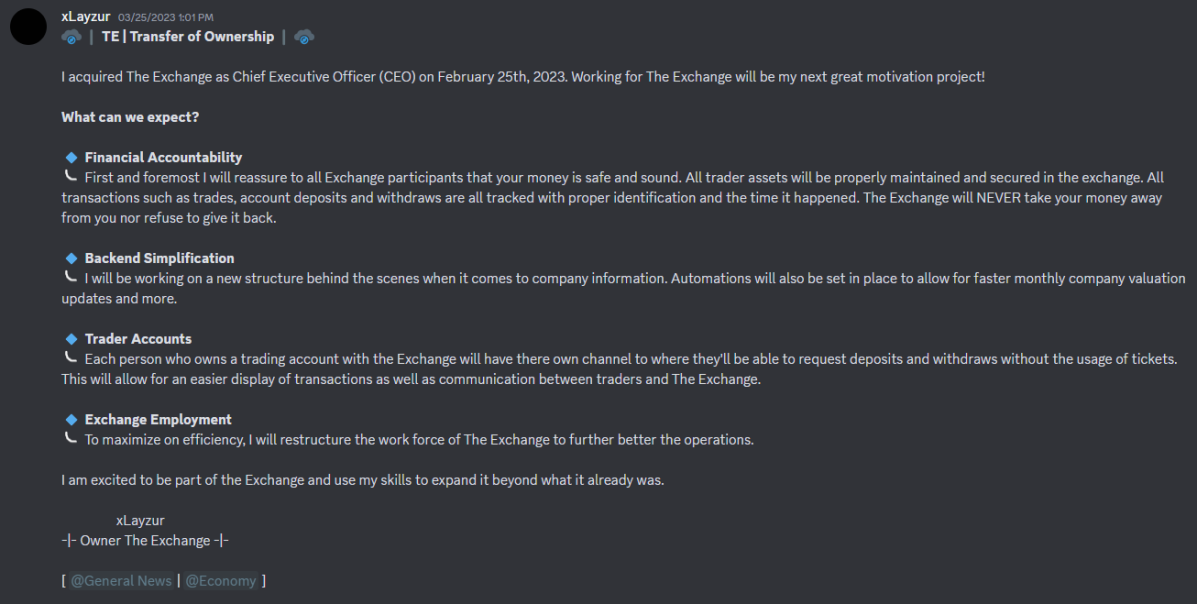 By making this submission, I agree I understand the penalties of lying in court and the fact that I am subject to perjury should I knowingly make a false statement in court.
DATED: 18/06/2023