Citizen
Supporter

IN THE FEDERAL COURT OF THE COMMONWEALTH OF REDMONT
CIVIL ACTION
Onyx Industries (Prodigium: Dusty_3 & Donut Law Firm: The_Donuticus Representing)
Plaintiff
v.
Tello
Defendant

COMPLAINT
The Plaintiff complains against the Defendant as follows:
Your Honor,
When you make an agreement you need to stick to it, especially when that agreement is made because you have failed the person. Tello failed Onyx Industries, one of their largest shareholders, when their stock prices were affected by criminal actions at the top of the bank. They owe Onyx, they have obligations, they have failed in those obligations.
I. PARTIES
1. Onyx Industries
2. Tello
II. FACTS
1. On the 14th of October 2022 Tello & Onyx Industries came to an agreement by which Tello would buy out Onyx's shares over the course of four months for the price of $404,074.34
2. Tello has missed the third payment on the 15th of December for $103,359.38.
3. This is a violation of the agreed upon terms of the contract.
4. After communication that the payment was missed Tello have since closed the ticket they had open with Dusty_3, representing Onyx industries, presumably in an attempt to conceal the evidence - however luckily this had already been screenshotted.
III. CLAIMS FOR RELIEF
1. The agreed upon terms of the contract have been violated.
IV. PRAYER FOR RELIEF
The Plaintiff seeks the following from the Defendant:
1. Asset seizure for the amount of $211,886.72 - The remainder to be paid to Onyx Industries.
2. $40,000 in legal fees to handle the 2 months of work put into this agreement by two law firms.
3. $20,000 in damages for the stress that this ongoing situation has caused the Plaintiff, especially due to the attempt by Tello to cheat the Plaintiff by closing the ticket.
IV. EVIDENCE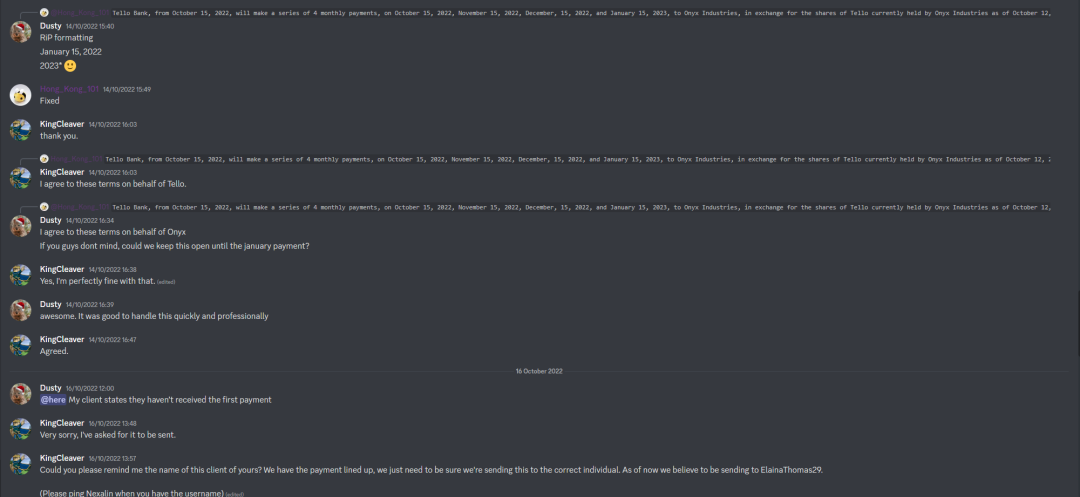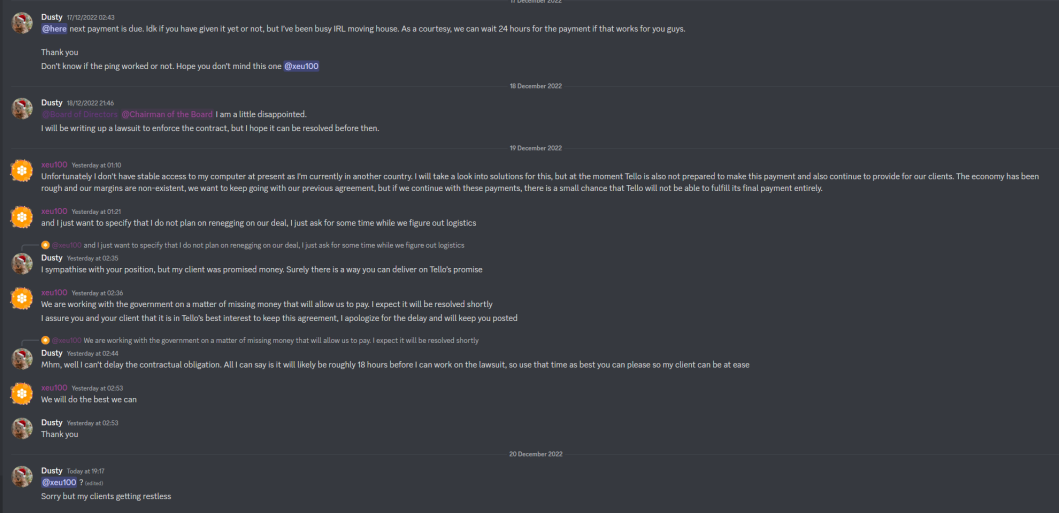 By making this submission, I agree I understand the penalties of lying in court and the fact that I am subject to perjury should I knowingly make a false statement in court.

DATED:
This 31st day of December 2022