IN THE COURT OF THE COMMONWEALTH OF REDMONT
CIVIL ACTION
Hamilton City Bank (Cooleagles Representing)
Plaintiff
v.
Mr_Augustus
Defendant
COMPLAINT
The Plaintiff complains against the Defendant as follows: The Defendant approached Hamilton City Bank in search of financial support around mid-July. The defendant soon was granted said support with a $22,740 loan (not including interests). About a month later, Icarus Bank and Hamilton City Bank merged, which then merged all outstanding debts between both companies. A few days following the merge, the Defendant mentioned to Hamilton City of their previous debt with Icarus Bank, a $59,000 loan (not including interests). Whilst, the Defendant did pay off their full $22,740 loan with the interests, the 59k loan still remains unpaid.
I. PARTIES
1. Hamilton City Bank
2. Mr_Augustus
II. FACTS
1. July 18th, The defendant was given a loan of $22,740 loan, ($26,151 with interests) from Hamilton City Bank
2. Beginning in August, Hamilton City Bank and Icarus Bank merged; therefore, merging all outstanding debts and contracts
3. August 15, the Defendant mentioned their outstanding $59,000 loan. Icarus Bank had a 3% weekly interests policy with their loans, which now leaves the total at $76,700 (a total of 10 weeks). In bringing up the debt, the Defendant even offered to merge both debts even though they accumulated to a large amount.
4. The full $26,151 was paid for the first loan, but the $76,700 loan has not been paid. All that has been offered to my clients were excuses and numerous extensions now bringing us into the month of November.
III. CLAIMS FOR RELIEF
1. The defendant gave their signature in the previous contract and acknowledged the contract and loan's existence.
2. The defendant has not fulfilled their part of the contract; although, on many accounts stated they would.
IV. PRAYER FOR RELIEF
The Plaintiff seeks the following from the Defendant:
1. $59,000 dollars, to repay the loan
2. $17700 dollars, interest on the loan
3. $250 for legal fees
V. EVIDENCE
Evidence 1 - Proof of Representation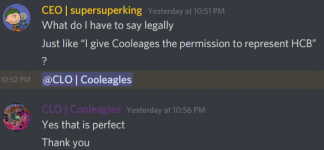 Evidence 2 - Proof of Acknowledging both loans + agreeing to merge them.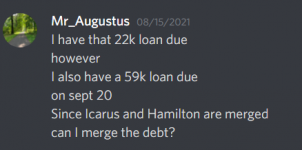 Evidence 3 - Proof of Interests to 59k loan + lack of responsiveness to reminders.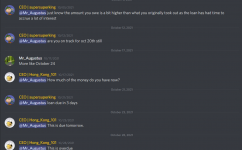 Evidence 4 - Further proof of acknowledging the loan and interests (interests at that time was around the 4-week mark)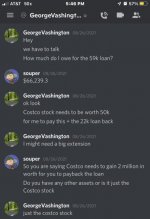 By making this submission, I agree I understand the penalties of lying in court and the fact that I am subject to perjury should I knowingly make a false statement in court.
DATED: This 18th day of November 2021