IN THE FEDERAL COURT OF THE COMMONWEALTH OF REDMONT
CIVIL ACTION
BuisnessOfGlass (Formerly Known as Richie_Z) (The Lovely Law Firm representing)
Plaintiff
v.
Department of Education and Commerce
Defendant
COMPLAINT
Plaintiff complains against the Defendant as follows:
Plaintiff has been punitively punished by Defendant for seeking legal remedies due to Defendant's breach of its own policy. Defendant has also breached the very foundational basis of the Government of Redmont.
PARTIES I.
1. BuisnessOfGlass - Plaintiff
2. Department of Education and Commerce - Defendant
3. AlexanderLove - Counsel
4. ItzBananaMuffin - Counsel
5. Hugebob - Witness
II. FACTS
1. On August 17th, 2021, Plaintiff opened a ticket with Defendant and applied to receive a grant for $10,000 (ten-thousand dollars) to purchase a property.
2. Defendant did not respond until September 8th, which is a total of twenty-two days, when Defendant had a policy of a maximum wait time of 7 days for response to tickets.
3. On September 8th, Defendant had denied Plaintiff's application without any reason given and without cause.
4. Defendant had explained later that Plaintiff's grant application had been denied due to Plaintiff stating that he would seek legal remedies to the situation since there had been no response to Plaintiff's ticket for a grant application. This is a punitive denial of a grant with no basis in policy or law and violates the separation of powers between the Executive Branch and the Judicial Branch of Government. This also violates Section IV, Article XIII of the Constitution by discriminating against Plaintiff unfairly due to his plead for a remedy to the outrageous delay in ticket response from Defendant.
III. CLAIMS FOR RELIEF
1. Defendant breached its own policy of a maximum of 7 days to respond to a ticket by a margin of fifteen days, and a total of twenty-two days, which is over triple the amount of time for a response.
2. Defendant punitively denied Plaintiff's grant application on the basis of Plaintiff's suggestion of legal remedy to the situation which is an egregious abuse of power and violation of Plaintiff's rights as a citizen of the Commonwealth of Redmont.
3. Due to Fact 4, the DEC, representing the Executive Branch of Government and the President of Redmont, interfered with the possibility of Judicial overview of the situation and a remedy thereof. This is a breach of the separation of powers as outlined in our Constitution.
IV. PRAYERS FOR RELIEF
1. $15,000 (fifteen thousand dollars) in punitive damages
2. $2,000 (two-thousand dollars) in legal fees
WITNESSES:
1. Hugebob
EVIDENCE:
Exhibit 1.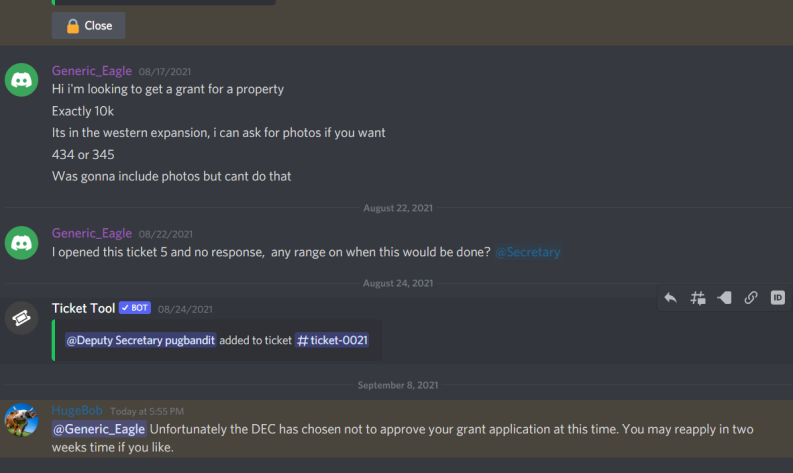 Exhibit 2.

Affirmation of representation by The Lovely Law Firm:

By making this submission, I agree I understand the penalties of lying in court and the fact that I am subject to perjury should I knowingly make a false statement in court.
DATED: This 16th day of October, 2021.
Last edited: