Citizen
State Department
Education & Commerce Department
Donator

IN THE FEDERAL COURT OF THE COMMONWEALTH OF REDMONT
CIVIL ACTION
Aladeen22
Plaintiff
v.
The Department of Justice
Defendant
COMPLAINT
The Plaintiff complains against the Defendant as follows:
WRITTEN STATEMENT FROM THE PLAINTIFF
The Department of Justice fired Aladeen22. They gave 3 reasons: Sergeant Vote, 3 infractions, and finally Bad behavior/disrespect. 2 of those 3 infractions were done several months ago. The first one was
Abuse of Police Equipment.
This infraction was made by former secretary Dusty_3. The 2nd one says
Ignoring Criminal Reports/Unproductive (When The Server Had around 70 players) Reason: He Didnt Send any Message in the Doj chat. We always need to tell him to handle the reports. He only did 2 reports during that time, around 30 criminal reports happened. Proofs in #doj⌨ 19th of March.
'' This was also several months ago, at this point I was a trainee officer and didn't know how to do much. Since the 2nd infraction until the day I got terminated I had done more than 115 criminal records, meaning that not only I improved my lesson but that I've done more criminal records than the current secretary ElainaThomas29.
I. PARTIES
1. Aladeen22
2. The Department of Justice.
II. FACTS
1. I was fired from my position as Sergeant and as a whole from the Department of Justice.
2. The 3 reasons given are not real reasons to fire someone.
III. CLAIMS FOR RELIEF
1. Sergeant vote doesn't mean anything when it comes to termination.
2. Several months between the first two infractions
3. Disrespect is not a real reason to fire someone as said in the verdict on this case:
Lawsuit: Adjourned - Bubbarc vs. President krix [Case No. 03-2021-07-01]
IV. PRAYER FOR RELIEF
The Plaintiff seeks the following from the Defendant:
1. My position as Sergeant to be given back.
2. A Formal and public apology from the Austin / Vanq Administration + another formal and public apology from the Department of Justice
3. 10k for all the inconvenience that this has caused.
4. implore the relevant authorities to explore the Secretary's conduct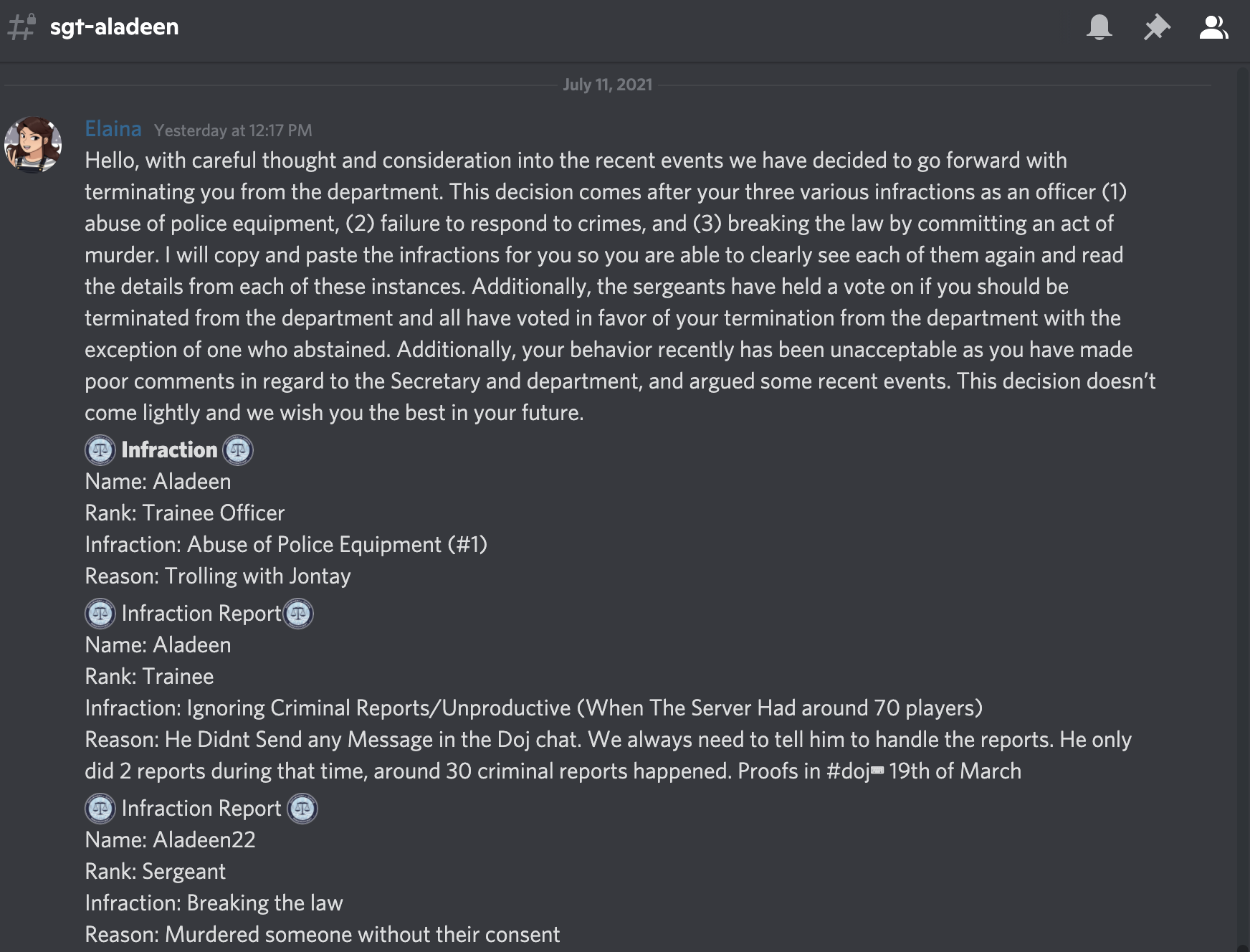 By making this submission, I agree I understand the penalties of lying in court and the fact that I am subject to perjury should I knowingly make a false statement in court.
DATED: This 16 day of July of 2021