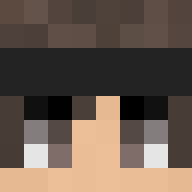 Citizen
Public Affairs Department
Donator

I'll keep this short,
Two years ago I joined DemocracyCraft as a joke along with a few other Stratham players I remember randomly murdering players... until this man named End wanted me to take photos of DC (look below for the photo). I didn't fully join the community until I was banned from Stratham and at the time I was getting ready to just leave the entire city rp world and move on with life. I decided to give this server a try and see where it landed me.
I joined the server in March 2021... and I was shocked to be welcomed into the community and this other player named Muffins telling- well begging me to join the DPA as a MA (who is she again?). I gave in after 3-4 weeks of Muffins non-stop 'bullying' me into the DPA. I quickly started to become a pillar of the community as I organize the first pride parade on the server in Aventura along with bringing innovation to the film industry and other sectors within DC. My first major video was Austin's inauguration which received a lot of love and support as it was the first video on DC that (at the time) was properly done (that wasn't a trailer lol). After that my rise to fame was in full action with countless people asking me to take photos or videos of their businesses /events. Austin somehow loved my videos that he made me his photographer during his presidential term along with allowing me to do town trailers. (which I did a bad job at making those LMAO). Personally, Austin's administration has truly been one of the greatest times to be on the server with a quickly growing player base + having an active government that worked for both sides. Thank you Austin & Muffins (or Vanq) for allowing me to work on the first international event in the entire city rp server which was a soccer match (the inauguration doesn't count, sit down Austin
). During this time DC was at its highest point peaking with 70-80 active players per day along with a healthy economy.
At this time I was working in a lot of aspects within the server from media to improving ways businesses can better advertise themselves. On July 15th MC Yelp was acquired by DemocracyCraft as the first and only DC company to be bought by the server itself. While the website was in its very early stages, I'm so glad Tech shot it behind the barn. The website had a lot of potentials to expand to other nations within the city-rp server however that potential was never reached. However I'm proud to say where MC-Yelp stands today, it's now fully revamped and integrated within the forums thanks to the lovely developers that work for DC. As for the media sector itself, I became the first unofficial contractor within the government to record and edit videos/photos from each congressional session to major server events. I made about 237k-240k in-game from players hiring me to film videos and 40k from the government (no you can't make this much anymore lol). Most of this money went back into the community or provided aid to Oakridge.
Before I knew it, Austin's term was over and this man named Consumer took office. I didn't have much of a role within the government anymore so I decided to focus on fixing Oakridge with Rurge. Oh boy, the first few weeks were full of drama lol. However we quickly turned Oakridge around and within a month of taking office, the town finally reached tier 5 status. This was announced in Oakridge's first Apple-themed video where we announced other things (spoiler alert, this was when we learned about Rev so we just never got to work on those things). I later resigned from Deputy mainly because I was starting to lose touch with DC however End convinced me to stay on DC, so I did. I didn't know what to do in DC besides filming random videos or bothering xerx about Costco so I decided to plan my campaign to run for mayor of Oakridge, to rebuild the town. This was my first biggest mistake following my application for staff.
When Reveille was announced I was hoping that DC was going to move away from the city rp sector and grab more players from more popular categories like criminal roleplay or GTA-related servers. However, I was disappointed at first that Reveille didn't offer much besides better buildings / some improvements. Though I listened to my gut and supported the project so more people would see its benefits which somehow worked. Thank god End/Tech started telling me more updates were coming to Reveille that would enhance the city rp/ criminal rp aspects more. Reveille is great to give the server a first 'new' start in terms of future updates as it's more planned out. Maybe in 12 months from now, I'll come back to see what I missed?
@xEndeavour
get the tour bus ready and democracy sausages!!
What made me leave DC wasn't some behind-the-scenes drama or my lack of interest in the server. For the most part, I was pretty public about issues that bothered me, or at least I spoke out about them. Anyways, I realized that while I do love DC and the community, it was time for me to finally let go. To finally achieve my goals in life. I have a lot of potential and it's time I have fun IRL. I'm sorry that I left unexpected and in a very unprofessional way. I know there was a lot of confusion but I didn't want to make this another planned leave as I knew I would just come back immediately. A week ago I left almost everything and my productivity increased by almost 700% I felt so much better knowing that I didn't have to care about a town or Minecraft politics. On May 28th, 2022, I ended my DC career with only getting one medal as the best media manager (which I lost after my apartment building was cut idk who did that
LMAO) . Thank you, every single one of you, all 40k+ players for giving me this amazing opportunity to improve the server. I can't wait to see where DC is 6 months or 12 months from now, hopefully, Human didn't accidentally delete DC. I only highlighted the best parts of my time on DC, I can edit this post to include my entire time on DC if needed lol.
Ok now to the actual shit 90% of you come here for:
@SomeHuman
gets UnitedBank with 50% share going to
@Teuntje1234567
@LavenderxBlaxii
you get my good morning messages
@RelaxedGV
and
@MintJay
you get full nerd (idk what that means but I'm taking Han Relax, suffer!)
@TommysToe
you get my toes, idk why you like toes LMAO
@Teuntje1234567
you get good night messages too!
@blockyelise
You get my warehouse of white chocolate and wine!!
ok this will be hella short, yw kids
I'll start with the man who brought- well kidnapped me onto DC,
@xEndeavour
get up here man.
I always appreciated our friendship however I say that you definitely do smell and I see why you love your democracy sausage. You were always there to support me and to encourage me to do better while being 100% down to earth with me. Take care of DC or I'll smite you irl.
@Technofied
thank you for giving me a plot and also being honest with me, make sure End doesn't break DC (again). I appreciate everything you do for the server and I can't wait to see 700+ changes in #changelog when I check up on DC sometime in the future lol.
SomeHuman, Teuntje1234567, PandaL0g1c, RelaxedGV, MintJay, LavenderxBlaxii, Nacho, GoldBlooded, LilDigiVert, LilNickiVert, TommysToe, huney69, Muffins29, Austin27, Tyler, Twist, Westray, Georgia, DrThunder and Elise
-> I feel too lazy to type each one of you a paragraph but just know I appreciate y'all. Ur amazing and keep up the amazing work! Love you all Thank you for supporting me and helping me out <333
Alright so this is it, the end of the movie, roll the credits Lavender! The Last Goodbye, peace
out
DC Two Years ago.
Last edited: