IN THE FEDERAL COURT OF THE COMMONWEALTH OF REDMONT
CIVIL ACTION
Socialist Party of the People
Plaintiff
v.
The Department of State
Defendant
COMPLAINT
The Plaintiff complains against the Defendant as follows:
WRITTEN STATEMENT FROM THE PLAINTIFF
The Deputy Secretary had misled a candidate about requirements to run in the November House of Representatives election. The candidate was made aware of a disqualifying factor (one factor), the lack of 12 hours in the past 30 days. The candidate reached this time and had declared without issue until reaching the ballot where the Department of State chose to disqualify the plaintiff. The candidate sought remediation in the form of notifying voters that they were provided the opportunity to vote for a new candidate, but the Department of State has refused to comment on this. This has resulted in damages to the reputation of the Socialist Party of the People.
I. PARTIES
1. Socialist Party of the People (Plaintiff, hereafter referred to as the SPP)
2. Heather (Deputy Secretary)
3. Department of State (Defendant)
4. Aladeen21 (Leader)
5. xeu100 (Vice Leader, Candidate)
II. FACTS
1. xeu100 had declared candidacy for the House of Representatives
2. xeu100 was disqualified, being notified by Heather under their capacity as Deputy Secretary, for missing the 12 hours of playtime required in the past 30 days.
3. xeu100 had declared once again after meeting this specific requirement, continuing to campaign.
4. The elections had opened and shortly thereafter the plaintiff was disqualified, without the plaintiff's voters being notified.
5. After the disqualification, rumors about the xeu100's election as Vice Leader began.
III. CLAIMS FOR RELIEF
1. These actions have damaged the SPP's reputation and the reputation of the SPP's leadership.
2. These actions have disenfranchised the SPP's voters.
IV. PRAYER FOR RELIEF
The Plaintiff seeks the following from the Defendant:
1. Voters of the November House of Representatives election be notified, that the election may be delayed until all voters are notified.
2. The Department of State conducts a formal investigation of Deputy Secretary Heather's negligence.
3. The Department of State announces a formal apology in the #government-announcements channel to the SPP and the candidate.
By making this submission, I agree I understand the penalties of lying in court and the fact that I am subject to perjury should I knowingly make a false statement in court.
DATED: This 7th day of November 2021
DOS Ticket #17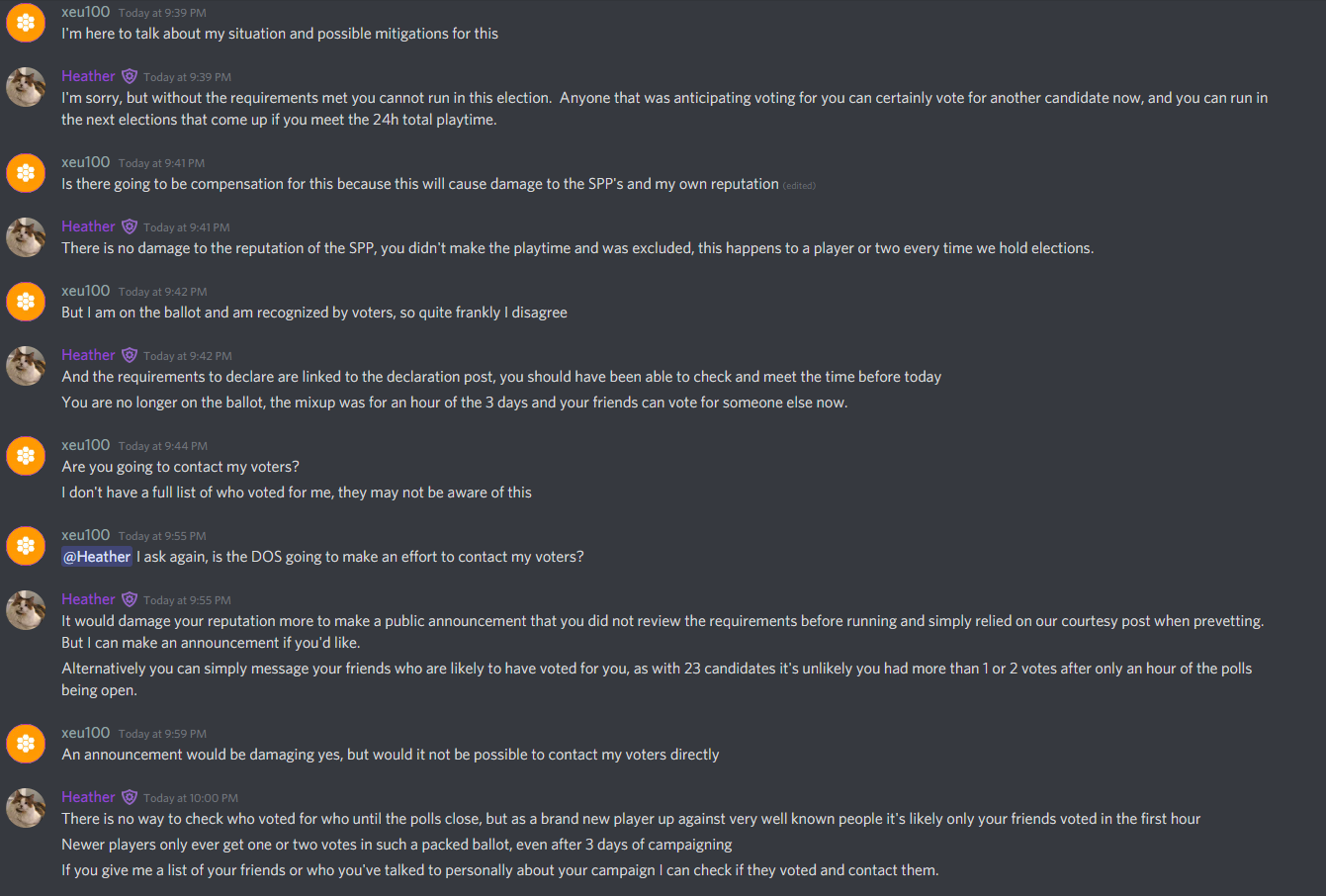 Proof of Negligence, a failure of the Deputy Secretary to properly inform xeu100:

An example that the negligence of the Deputy Secretary has put the SPP's leadership in question, thus the SPP itself, damaging its reputation:

Proof that the Deputy Secretary was combative to xeu100 and not working towards a resolution, as requested by xeu100 to remediate the situation.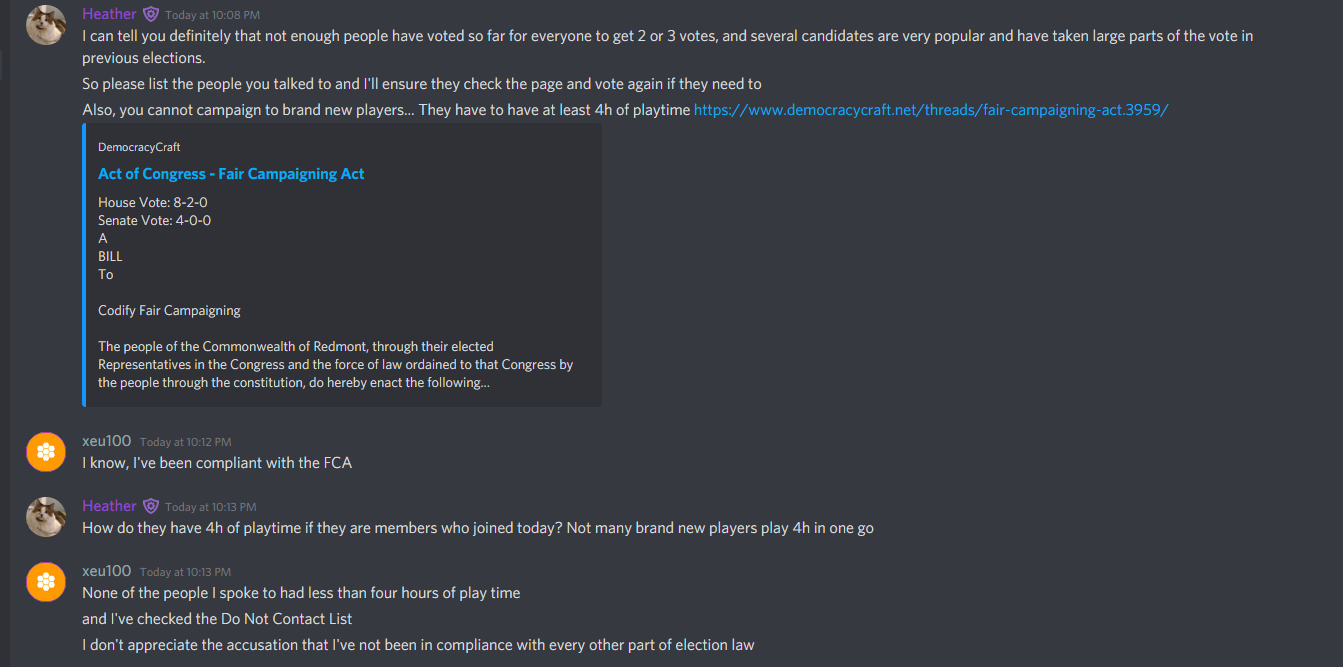 Last edited: