IN THE COURT OF THE COMMONWEALTH OF REDMONT
CIVIL ACTION
Clockwork (Hamilton City) Bank (Cooleagles Representing)
Plaintiff
v.
HanaHex
Defendant
COMPLAINT
The Plaintiff complains against the Defendant as follows: The plaintiff had a contract with the defendant in which they gave them a loan. This loan was due July 13th and has yet to have been returned.
I. PARTIES
1. Clockwork (Hamilton City) Bank (Cooleagles Representing)
2. HanaHex
II. FACTS
1. The defendant was given a loan of $7,000 with a total of $800 in interests on June 13th.
2. The loan, to be returned a month later, was due on the 13th of July.
3. It is now the 17th of July and the defendant has shown no signs of fulfilling their part of the contract.
III. CLAIMS FOR RELIEF
1. The defendant gave their signature and acknowledged the contract's existence.
2. The defendant has not fulfilled their part of the contract.
IV. PRAYER FOR RELIEF
The Plaintiff seeks the following from the Defendant:
1. $7000 dollars, to repay the original loan
2. $800 dollars, interest on the loan
3. $250 for legal fees
V. EVIDENCE
1. Contract & Signature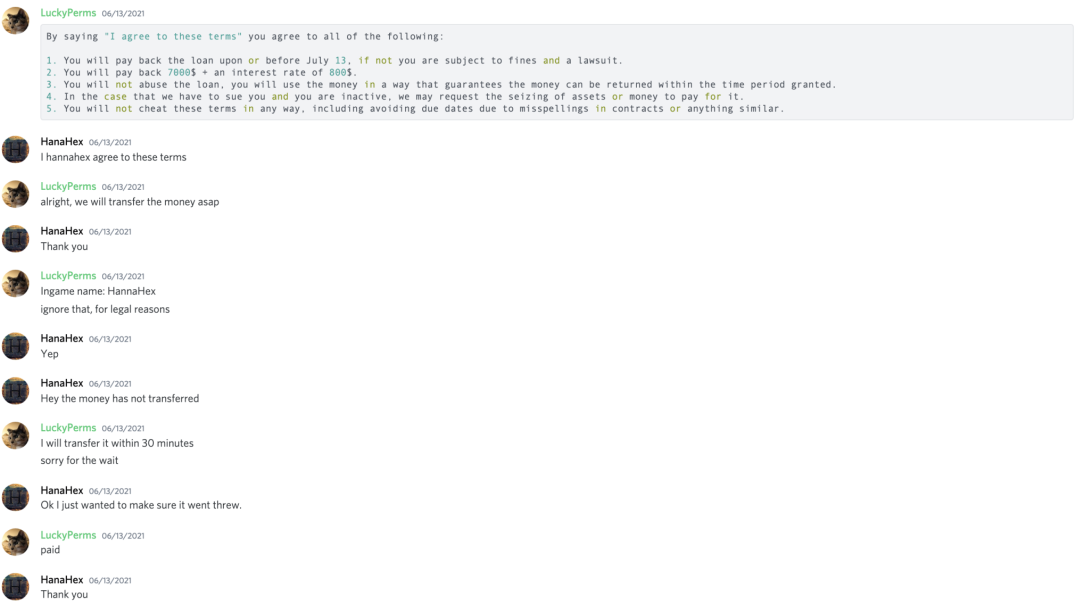 2. Loan Information (L to R - Loan ID, Player Name, Loan Amount, Loan + Interests, Interests, Start Date, End Date, Status)

By making this submission, I agree I understand the penalties of lying in court and the fact that I am subject to perjury should I knowingly make a false statement in court.
DATED: This 17th day of July 2021